Welcome
Welcome to the Apalachee Plantation Homeowners Association Website. With 250+ houses, Apalachee Plantation is a large and peaceful development located approximately 30 miles northeast of Atlanta in the fast-growing Dacula area in Gwinnett County, we are five miles from the Mall of Georgia, with easy access to Interstate 85, GA 985, and Hwy 316.
Membership in the HOA is mandatory and all residents abide by the Apalachee Plantation Covenants, Bylaws, and Rules and Regulations to ensure the safety, health and wellness of everyone living inside the community.
To learn more about Apalachee Plantation, please browse this website or contact us if you have any questions.
Click here for directions.
---
---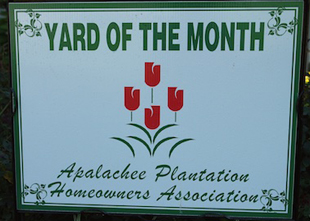 ---
Yard of the Month Award
chosen May-September
Give a round of applause to our winners of the Apalachee Plantation Yard of the Month. The Program is designed to recognize those homeowners who have spent extra time and effort to maintain their property and keep their yards looking beautiful.
We congratulate the winners for a job well done.
Yard of the Month recipients will have a sign posted in their yard for the month and receive a Home Depot gift card.
Click here to Nominate a Yard of the Month
---

---
Home Owner
Contact Information
Complete the Home Owner Contact Information Form by clicking on the link below or through the HOA Forms drop-down menu. It takes only a few minutes to complete the form on-line, and we must have this informaiton to comply with the HOA Covenants.
Use this link to complete a Home Owner's Contact Information Form
---

---
---
HOA Dues Only
Can Be Paid using PayPal.
Click here to pay your 2018 HOA dues.
---
Click here to pay late fee
($35 minimum) or make partial payments.
---
HOA Dues May Be Mailed to:
Apalachee Plantation c/o
SMGmanagement of Atlanta LLC
Attn: Helen Johnson
P. O. Box 76697
Atlanta, GA 30358
Phone: 404.372.8856
---
---
Yard of Month Winners
Congratulations to your Yard of the Month Winners for September. Winning yards are top: 2665 Fort Apachee Trail; bottom: 2675 Fort Daniel Drive.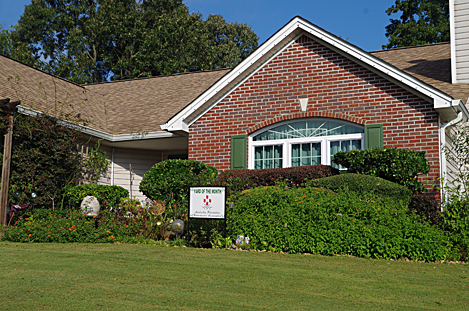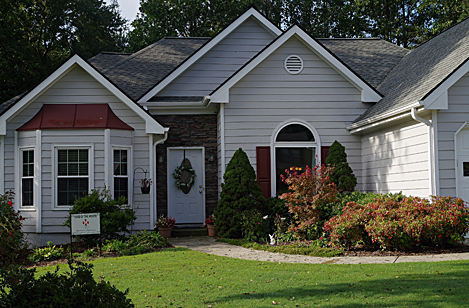 Fall Maintenance Reminders
Use the cooler weather to work on your yard and gardens
Plant ornamental shrubs and trees to make new additions to your landscape
Plant winter-hardy plants like pansies and kale
Mulch plant beds and trees with shredded fallen leaves, pine straw, compost or other material.
Apply pre-emergent and watch for winter weeds in turf areas as lawn areas go dormant and control as needed.
Spot clean vinyl siding or pressure wash your entire home and cement areas
REMINDER: All resident owned vehicles should be parked in the garages or driveways of their respective residences. Cars cannot block access to their neighbor's driveway or mailbox.
---
Why Pay Your HOA Dues
HOA Dues are mandatory and the annual payments are used:
To pay for insurance to cover damages within the common areas, including the entrance.


To pay for property taxes on all common areas.


To pay for lights and irrigation at our entrance.


To pay for maintenance of the common areas.


To pay for County required maintenance of our three detention ponds (including fencing to prevent injury to trespassers).


To pay for seasonal landscaping and maintenance of entrance area.


To pay for legal fees in connection with dues collection and administrative costs for the management company.


---